On January 13, with the theme of "Leading in China, Aiming for the world", the HAVAL Global 5-million-sales Grand Ceremony and Global Strategic Conference was held in the HAVAL R&D Center in Baoding. HAVAL owners, Chinese and foreign experts, partners and over 500 media from all over the world gathered to share the success and joy of HAVAL Global 5-million-sales and witness the release of the "521" Globalization Strategic Blueprint of HAVAL.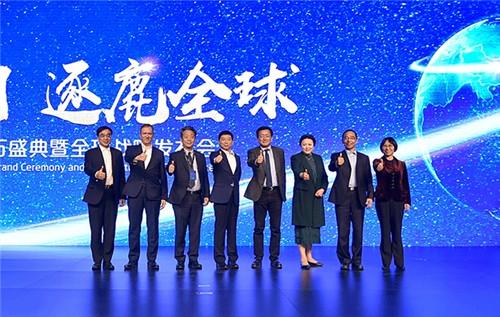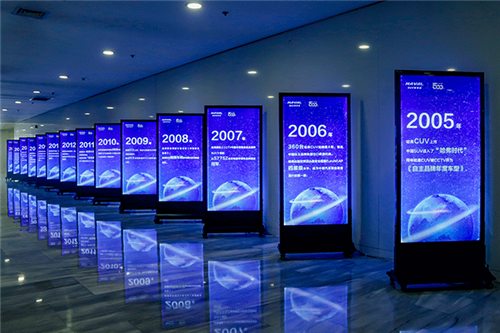 By the end of 2018, the accumulated global sales of HAVAL SUV has exceeded 5 million, becoming the first professional SUV brand in China to enter the 5 Million Club. For nine years in a row, HAVAL SUV topped the list of SUVs sold in China. As the sales leader of the HAVAL brand, HAVAL H6 has created a new myth as the sales champion for cumulative 67 months in the SUV market. It is worth mentioning that the sales volume of newly launched F5 and F7 models of the F-series has exceeded 10,000 in December 2018, becoming a new force of HAVAL for new sales record.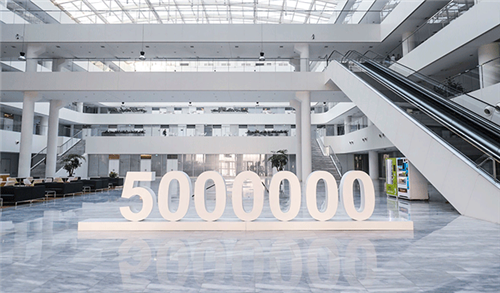 The release of the 521 Globalization Strategy marks a new era of HAVAL
As the founder of the HAVAL brand, Wei Jianjun always focuses on the future. In the event, he made a speech with the theme of "Global Dream·China Heart". He said that the globalization of Chinese brands is an inevitable trend. In the future development, HAVAL must go global to create products with global competitiveness, to build a globally influential brand, and to become the global SUV leader. At the ceremony, Wei Jianjun officially released the HAVAL 521 Globalization Strategy, that is, to realize the single annual sales volume of 2 million vehicles within 5 years and become the global No.1 professional SUV brand. The release of this strategy indicates that in the near future, HAVAL will become the global No.1 SUV brand. The speech was warmly applauded on the spot.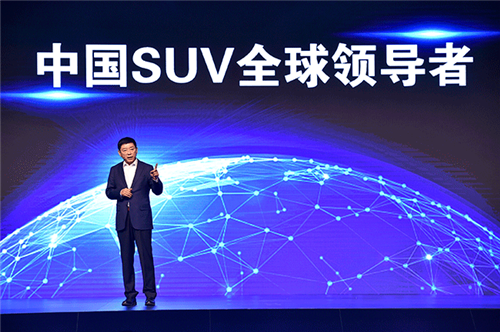 Meanwhile, Wei Jianjun has made a grand blueprint for HAVAL's future technology research and development, intelligent network, and new energy development.
At present, HAVAL has established eight R&D centers around the world, including smart drive, intelligent network, new energy and modeling. The continuous improvement of global R&D layout provides leading technical support for HAVAL to create products with global competitiveness. At the same time, it has also established a new technology incubation laboratory in Silicon Valley to carry out research and development of cutting-edge technologies in cooperation with international technology giants. In the next five years, the total investment in global R&D of HAVAL will exceed 30 billion yuan, which will continuously consolidate the technical strength and deepen the R&D of leading technologies.
In terms of the R&D of intelligent network, HAVAL will build a full-scenario intelligent service system with a trinity of basic technology, user thinking and personalized service, and build a 5G global alliance ecosystem in cooperation with the Internet of Everything platform, so as to meet the needs of users in 24 global language regions.
In terms of the R&D of new energy, HAVAL has invested billions of yuan and taken the leading position. With the second generation series and parallel hybrid technology, HAVAL has created high-quality SUV products in the world. The technological innovation in the field of FCEV enables HAVAL to stay ahead of the times in terms of the R&D of hydrogen power, and HAVAL can thus create the world's leading hydrogen-powered SUV products. In the future, HAVAL will comprehensively explore package solutions such as plug-in hybrid and hydrogen power to create high-quality SUVs that meet diversified demands of global consumers.
By 2023, HAVAL plans to launch 20 global products with leading technologies of the new four modernizations, and the ratio of new energy models will exceed 60%. Among them, HAVAL H6 and F7, as the flagship models, aim to be among the world's top 10 SUVs. Among the new energy models, HAVAL Series-Parallel High-pressure HEV products will be mass produced in 2021. In 2022, HAVAL hydrogen-powered SUV will make its debut at the Beijing Winter Olympics to show China's strength to the world.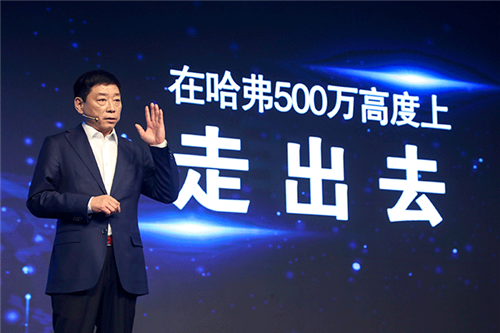 On behalf of HAVAL, Wei Jianjun also launched the initiative to establish a global alliance of Chinese auto enterprises. HAVAL is willing to share innovative global technologies with excellent Chinese self-owned brands, carry out in-depth cooperation in all fields such as new energy, intelligent drive and intelligent network, and promote the globalization of Chinese automobiles, so that China could transform from a major auto importer to a major auto exporter.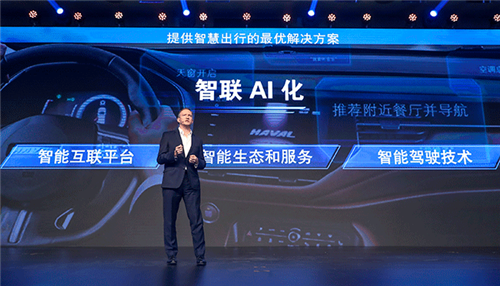 Meanwhile, Phil Simmons, the Global Design Director and Vice President of Great Wall, also gave his in-depth interpretation of the global design concept of HAVAL. He defined the future globalization design language of HAVAL as "i-Home Platform", which includes three trends, i.e., SUV coupe, AI, and platform expansion. The platform can be flexibly expanded into traditional fuel SUV, fuel-cell-powered SUV, plug-in hybrid SUV, hydrogen-powered SUV and other new-energy-powered SUV models. In the future, HAVAL will meet the multiple demands of global consumers with more comfortable, fashionable and intelligent products.
Focus and Integrity make HAVAL a champion
The 5-million-sales is a glory moment for HAVAL, indicating HAVAL's leading position in the Chinese SUV market. Wang Fengying, President of Great Wall Motors, gave a brilliant interpretation of the "Leading in China" of HAVAL. She said that HAVAL is professional because of its focus and HAVAL has become a specialization SUV brand in the eyes of consumers. HAVAL is an expert because of its dedication and HAVAL has become a leading SUV brand in China. HAVAL is not only the No.1 brand of SUV in China, but also the No.1 brand in terms of service and integrity.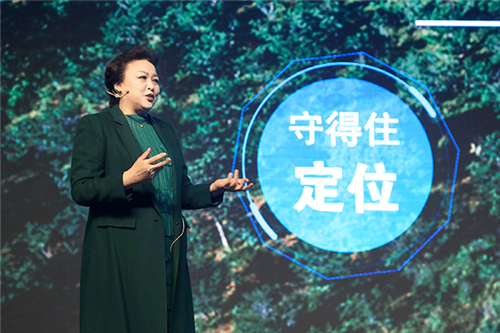 With the brand concept of "Focus, Dedication, Specialization", HAVAL has been adhering to the corporate strategy of "creating high-quality products supported by high-tech equipment and high-performance design", insisting on focus, concentrating superior resources to create high-quality SUVs, and form a portfolio of products covering large, medium and small, high, medium and low, various specifications and varieties. Today, HAVAL has comprehensively covered various segments with the H&F dual- series layout.
When summarizing that the success of the 5-million-sales of HAVAL depends on its focus strategy, Wang Fengying said that concentration is a kind of spirit and a kind of awe for the industry. Focus is to uphold the positioning, to resist the temptation, and to suppress the desire. Great Wall has always been an auto manufacturer with commitment of making the best automobiles in China wholeheartedly. It is the persistence and focus of HAVAL over the past decades that have contributed to the success of the HAVAL brand.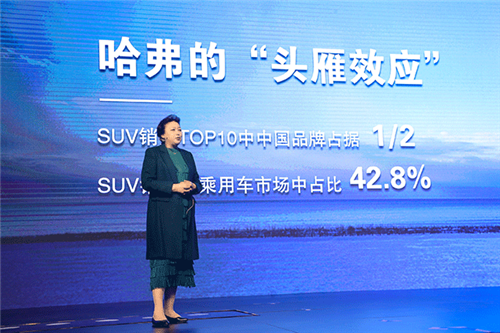 She also said that HAVAL has always persisted in integrity. HAVAL needs to be able to create not just quality automobiles, but services that consumers may trust. Since 2011, HAVAL has built an integrity system with the sales&service providers through continuous decisive terminal actions, built an incentive system with the goal of pursuing customer satisfaction, and implemented it vigorously to provide users with high satisfaction services. At the same time, HAVAL also carried out continuous service festival activities, so that customers can enjoy excellent after-sales service for safety, and HAVAL won the reputation and trust of 5 million users. HAVAL integrity is a long-term and global commitment and is the cornerstone of brand trust.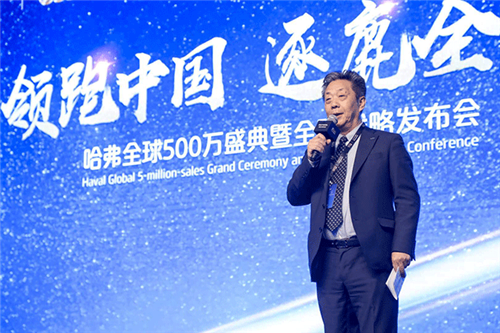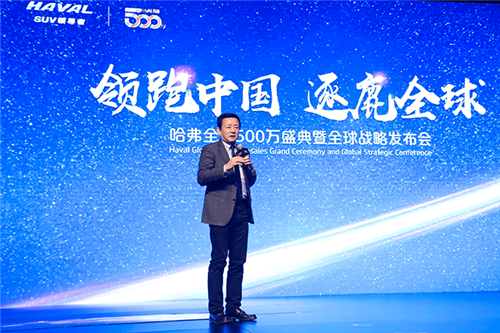 On the evening of the event, the industry experts and economic experts present spoke highly of HAVAL's 5-million-sales brilliant achievements. Dong Yang, Vice President of China Association of Automobile Manufacturers, said that HAVAL's 5-million-sales is inseparable from its unique manufacturing system, procurement system and service system. It has created a development model with Chinese characteristics. As an outstanding representative of Chinese brands, it has a promising future. Fan Gang, a famous economist, made a profound analysis on the situation of world economic development and spoke highly of HAVAL's globalization strategy of going global. HAVAL's next 5-million-sales will be realized at a faster speed.
HAVAL rewarded 5 million car owners with 500 million yuan worth of red packets
The 5-million-sales comes from the trust of 5 million car owners worldwide. On the spot, Aleksandr Zholobov,a car owner from Russia, shared the legendary experience of driving HAVAL H9 to travel across 14 countries in Asia and Europe, and presented the travel-inspired painting drawn by his son to HAVAL to express his trust and support.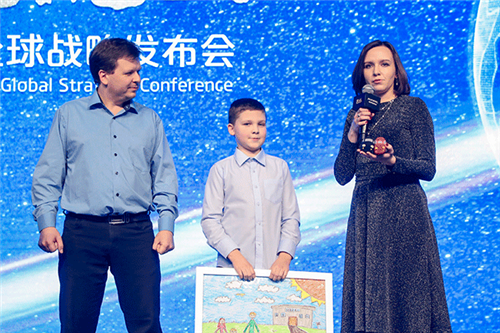 The HAVAL Global 5-million-sales Grand Ceremony is also a night of gratitude to reward the 5 million owners. Li Hao, a famous host from Jiangsu TV, announced that the "500 million worth of red packets to celebrate HAVAL global 5-million-sales" event was officially launched. From now until February 28, HAVAL will provide five-range red packets with different values of 1,000 yuan, 2,000 yuan, 3,000 yuan, 4,000 yuan and 4,999 yuan for customers who are about to buy a car, as well as various service red packets such as maintenance voucher, accessories\ merchandise voucher, and extended warranty/insurance voucher, with a total amount of up to 500 million yuan.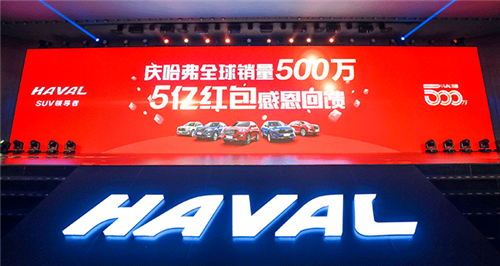 It has always been the firm belief of the HAVAL to be user oriented. The 500 million yuan worth of red packets reward event is full of sincerity, fully demonstrating the importance HAVAL attaches to users and the service concept of "customer satisfaction". And it will certainly help HAVAL to realize the next 5-million-sales at a faster speed.
HAVAL and Partners work together for a win-win future
HAVAL aims to win users with its quality, and the top supplier system is the key to ensure product quality. At the ceremony, representatives of overseas suppliers from Bosch, BorgWarner and Autoliv, representatives of some domestic dealers, and Li Ruifeng, Vice President of Great Wall Motor Company Limited and General Manager of the Sales Company, jointly lit up the 5-million-sales digital monument on the spot, witnessing the glory of HAVAL.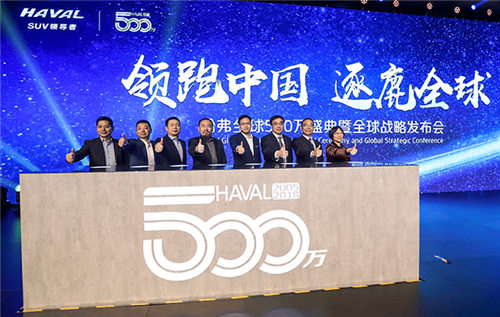 For 13 years, HAVAL has cooperated with world's leading suppliers, mastering the core component resources through strategic cooperation with internationally renowned brand suppliers, and mastering the core technologies of automobiles through vertical integration. It has realized the self-production of engine, transmission, chassis, electric appliance, internal and external accessory, mold and other products, formed a unique supporting resource advantage, and built a stable, professional and efficient industrial chain. In the future, HAVAL will continue to create the most stringent quality system and provide users with superior products.
At the same time, on the basis of the current network of more than 800 distributors, HAVAL will build an ecological sales and service structure with five forms of "intelligent experience store +4S store + urban exhibition hall + community window store + maintenance center", which will cover pre-sales, sales and after-sales and provide consumers with all-round exclusive services.
The world is so big, and we should not always dig inward, but should expand outward. The 5-million-sales is not the end point, but another starting point. Globalization is the "focus" of HAVAL for the future. Standing on the new starting point, HAVAL's focus is transformed from China to the world. With advanced technology and excellent quality, HAVAL will stand on the turning point of the new round of industrial revolution and the outpost of the competitive trade war with higher pattern, broader vision, more open mind and more innovative mode, and sail to the global main channel of Chinese brands. As the global leader of Chinese SUV, HAVAL will continue to fight and aim for the world!