On August 18, 2022, GWM officially passed the ISO 21448 SOTIF (Safety of The Intended Functionality) process certification and obtained the first ISO 21448 SOTIF Certificate for Road Vehicles worldwide issued by UL Solutions, adding leverage to the safety assurance of intelligent driving of vehicles.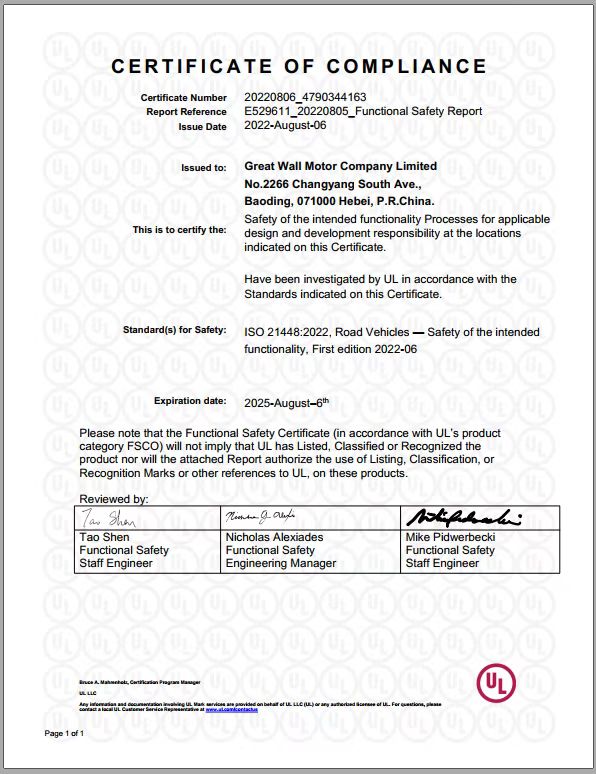 GWM ISO 21448 Certificate
With the development of automatic driving technology, the safety requirements for intelligent connection vehicles are also becoming complex and diverse. As a supplementary standard to ISO 26262, ISO 21448 Road Vehicles-Safety of the Intended Functionality mainly addresses the insufficiency of functions, performance limitations, and human misuse factors of automatic drive, and proposes a methodology to solve the safety problems related to automatic drive.
Since 2020, GWM has cooperated with UL Solutions and tried to apply the ISO 21448 standard that was still being drafted at that time to the development process of the automatic driving system. The passing of the ISO 21448 certification this time marks that GWM has established a complete SOTIF process.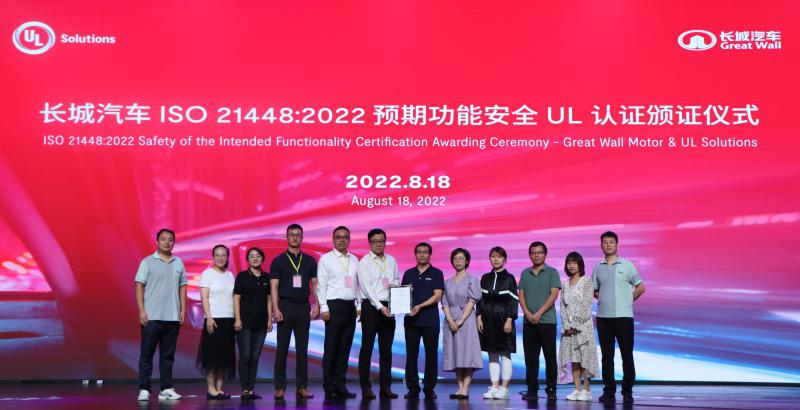 GWM and UL Solutions Award Ceremony
The premise of commercialization of intelligent driving and unmanned driving must be safety, which is undoubted. GWM attaches great importance to the safety and reliability of products in the intelligent strategic layout, and regards the safety design of the complete vehicle as the top priority in production and R&D. The SOTIF design is a complex long-term process, and it is also one of the key links of intelligent vehicle safety in the future. Passing the ISO 21448 process certification is just the beginning. In the future, GWM will continue to strengthen the SOTIF system and capacity building, always put user safety first, and bring users a safe and reliable driving experience.