On March 30, Great Wall Moto Co., Ltd. (stock code: 601633.SH, 02333.HK; hereinafter referred to as GWM) released its 2022 annual report. In 2022, the total operating revenue of GWM was 137.34 billion CNY; The net profit attributable to shareholders of listed companies was 8.27 billion CNY, a year-on-year increase of 22.90%; The annual sales volume was 1.06 million vehicles, and the penetration rate of intelligent vehicles reached 86.17%. The proportion of sales volume of vehicles above 200,000 CNY increased to 15.27%. The average selling price of a single vehicle reached 129,400 CNY, a year-on-year increase of 21.47%.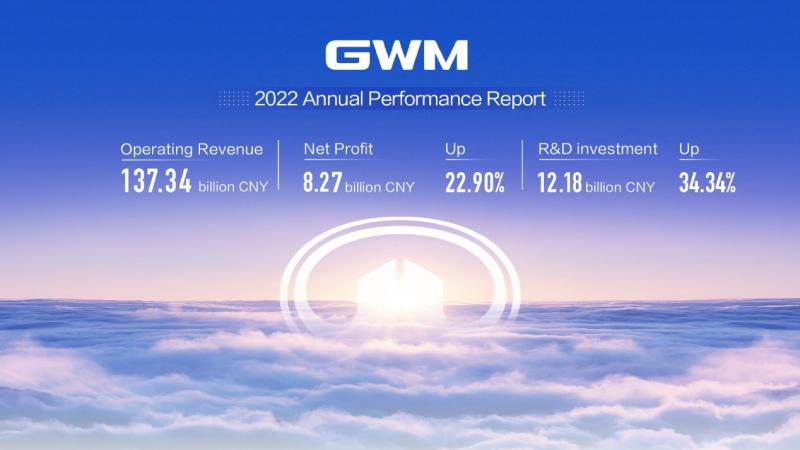 Data of Annual Performance Report
In 2022, GWM maintained a healthy and sustainable financial situation by accelerating the pace of intelligent and new energy transformation, releasing product potential and market momentum. And it has made progress in new energy, intelligence, globalization, and system transformation. In 2023, the company will continue to take technology development as the foundation, take global development as the wing, adhere to the new energy declaration of " Greener,Higher,Safer", let conscientiousness and honesty being the essence of car-making, let core technology leading as the essence of competition, and let technology realize equal rights for all people.
R&D investment of 12.18 billion CNY, technical innovation helps to continuously improve core competitiveness
Under the background of the intelligent and the new energy revolution in the industry, GWM continued to strengthen scientific and technological innovation. In 2022, the company invested 12.18 billion CNY in research and development, a year-on-year increase of 34.34%, accounting for 8.87% of the total operating revenue. It continued to strengthen research and development capabilities, consolidate its foundation with technological innovation, and further enhance its core competitiveness.
In the 2022, GWM owned 6,042 patent disclosures with a year-on-year increase of 62.86%, ranking first among Chinese privately owned auto enterprises; it had 4,652 patent authorizations with a year-on-year increase of 42.87%, ranking first among Chinese auto enterprises. Moreover, in the NEV field, GWM possessed 1,966 patent disclosures and 1,650 patent authorizations, with a year-on-year increase of 51.11% and 80.53% respectively, anked No. 1 again among auto enterprises in China.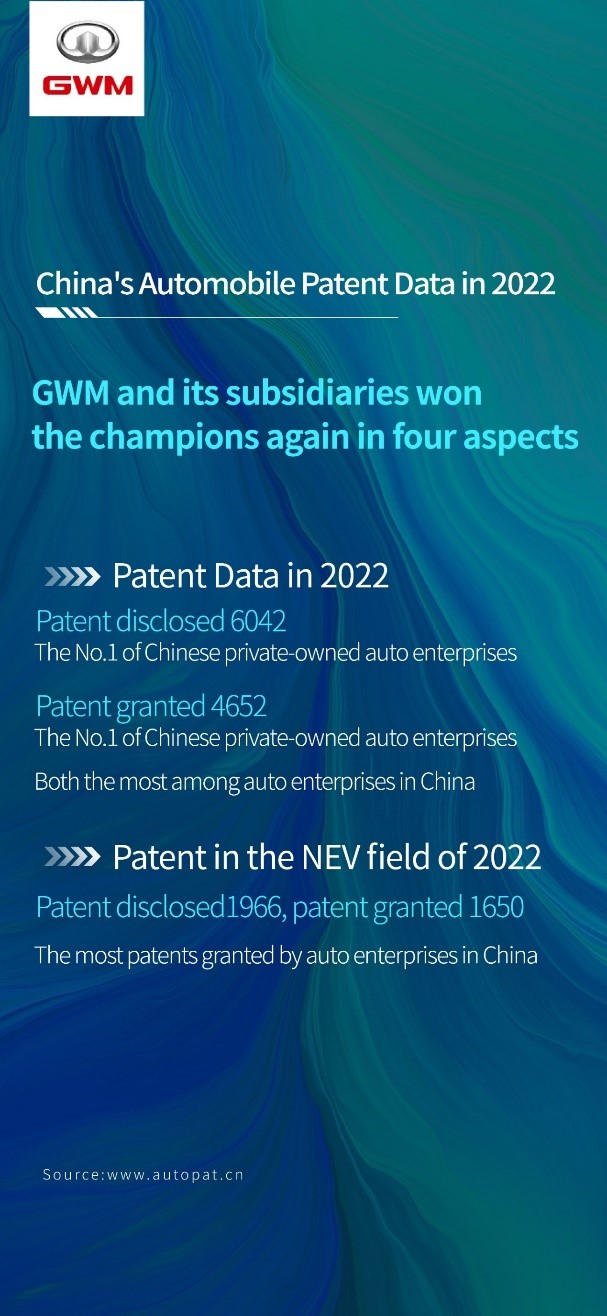 Patent Data of GWM
Forest ecosystem keep releasing potentials, enabling a rapid development of intelligent driving and new energy products
As the only automotive company in China and the only one of two in the world that has completed a flat, networked, and decentralized layout of the entire industrial chain in the two major fields of energy and intelligence, GWM has established a forest ecosystem with multiple species interacting and continuously evolving, forming a complete industrial layout, achieving independent control of core technologies and efficient collaboration of organizational systems.
In the field of new energy, GWM has established a parallel development strategy of hybrid, pure electric, and hydrogen energy, with multiple technological routes. It has built an industry-leading energy system of "photovoltaic+distributed energy storage+centralized energy storage", and completed the entire value chain layout of "solar energy - battery - hydrogen energy - vehicle power".
The recently released new intelligent four-wheel drive hybrid technology Hi4 has achieved a "new configuration" of three power sources with dual axis distribution, a "new breakthrough" in iTVC intelligent torque vector control system, and a "new height" in electromechanical coupling transmission systems; Designed specifically for the full range of high-level driving needs of new energy scenarios, it truly achieves "four wheel drive experience, two wheel drive price, four wheel drive performance, and two wheel drive energy consumption.". This technology will be first applied on the newly launched HAVAL new energy model, and the full range of new energy products from GWM will also be fully popularized in 4WD by 2024. In the future, it will fully realize technology open source and usher in the era of all-electric 4WD.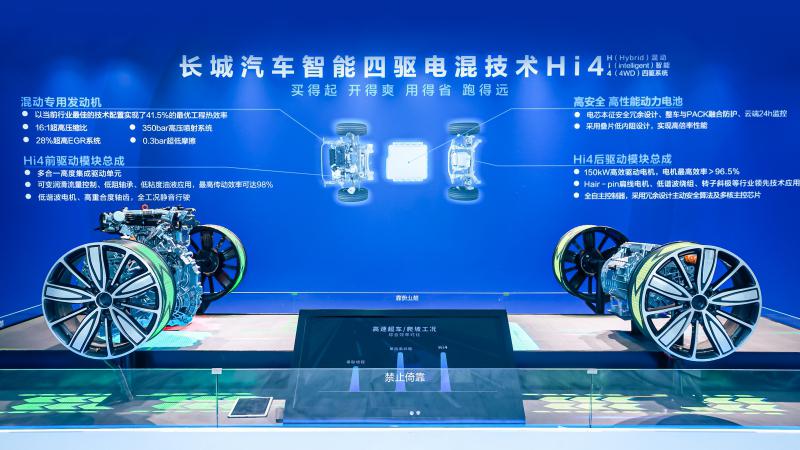 GWM Intelligent 4WD Hybrid Technology Hi4
In the field of intelligent driving, GWM' intelligent chassis integrates core technologies such as steering-by-wire, brake-by-wire, CTC, and integrated die-casting aluminum body; About intelligent cockpit technology, it has the ability to develop software and hardware on a full stack, and the V4 cockpit platform with higher computing power is on the way; About intelligent driving technology, it has the ability to self-develop from sensing hardware to computing platforms. Currently, the assisted driving mileage of GWM users has exceeded 36 million kilometers, and the learning duration of the autonomous driving data and intelligence system has exceeded 500,000 hours. The virtual driving age is equivalent to 62,000 years of human driving, promoting rapid iteration of intelligent driving products and moving towards full scenarios.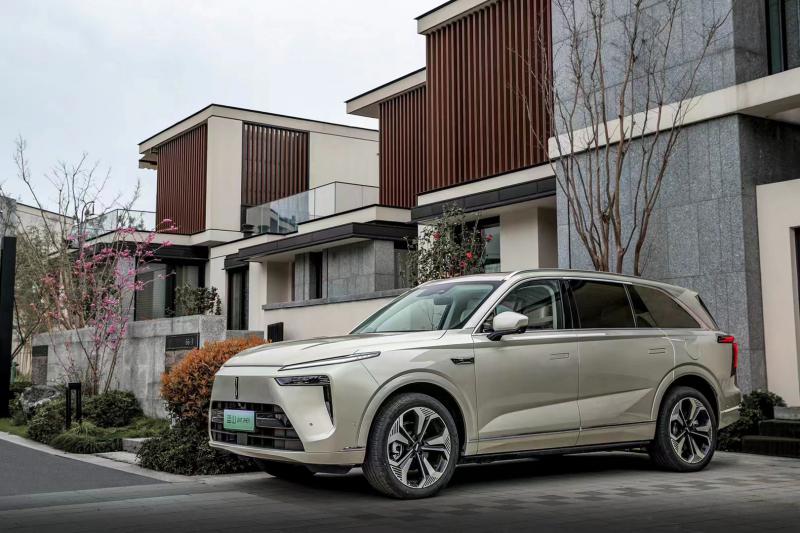 WEY Lanshan DHT-PHEV
In 2023, in the face of increasingly fierce market competition, GWM forest ecosystem will continue to exert its strength, comprehensively deploy intelligent new energy fields with new sequences, new channels, new models, new technologies, and new products, to continuously improve its product mix and meet the diverse needs of consumers.
Overseas sales exceed170,000 units, with "ONE GWM" strengthening the global high-quality development
Under the development pattern of mutual promotion of domestic and international dual cycles, GWM relies on a complete research, production and marketing system and localized user operations to comprehensively accelerate its "ecological "globalization. In 2022, GWM sold 172,200 vehicles overseas, a year-on-year increase of 23.09%, which setting a new record. The "ONE GWM" global brand action plan will also assist it in integrating advantageous resources, focusing on a GWM brand as the core in overseas markets, creating an aggregation channel which categories brand under the parent brand, and continuously strengthening brand awareness.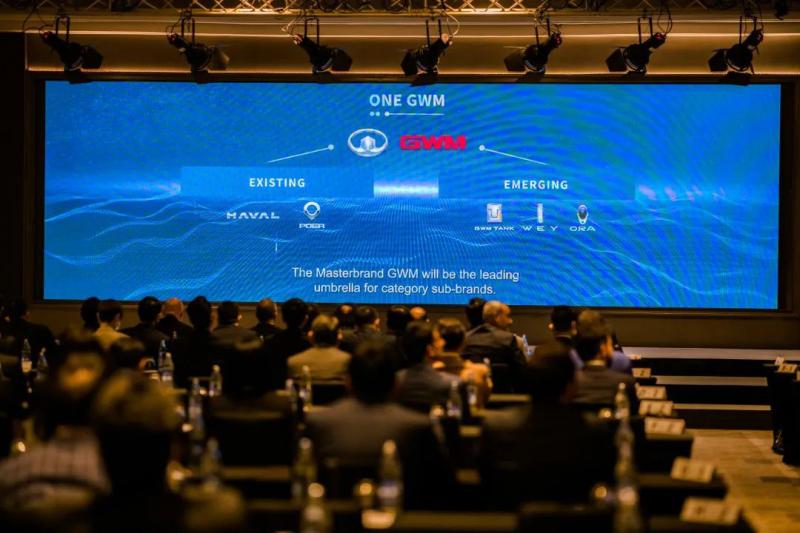 overseas dealership conference
In 2022, global star models such as WEY Mocha PHEV (Coffee 01), ORA 02, HAVAL H6 New Energy (HEV/PHEV), TANK 300, and GWM POER were launched in Europe, South America, ASEAN, and the Middle East. And landed at the Paris Auto Show, Bangkok Auto Show, The 35th International Electric Vehicle Symposium in Norway, Thailand Auto Expo, keeping expand in overseas markets with strong product strength and services.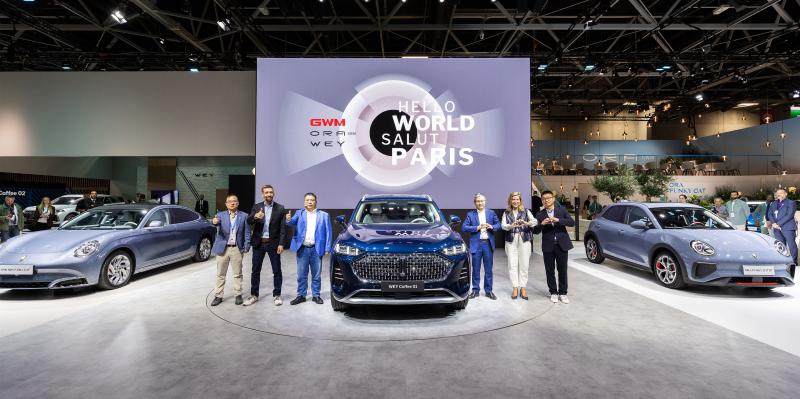 GWM on the 2022 Paris Auto Show
In the future, GWM will focus on long-term trends and adhere to long-term principles, stimulate innovation with technology, increase investment in scientific research and development, and continue to promote the upgrading of intelligent new energy technologies. In the overseas markets, it will continuously expand its international business, adhere to the "ecological globalization" strategy, and seek a sound development, aim for high-quality development through a healthy and sustainable development mode.