On June 5, Great Wall Motor Co., Ltd. (stock code: 601633.SH, 02333.HK; hereinafter referred to as "GWM") released the production and sales data of May 2023. In May this year, GWM sold 101,020 new cars, increased by 26.18%. In terms of new energy products, 23,755 vehicles were sold, accounting for more than 23.52%, and both the total numbers and proportion are reaching new highs; Overseas sales of 25131 vehicles with an increase of 104.04% year-on-year, marked historic high with a share of 24.88%.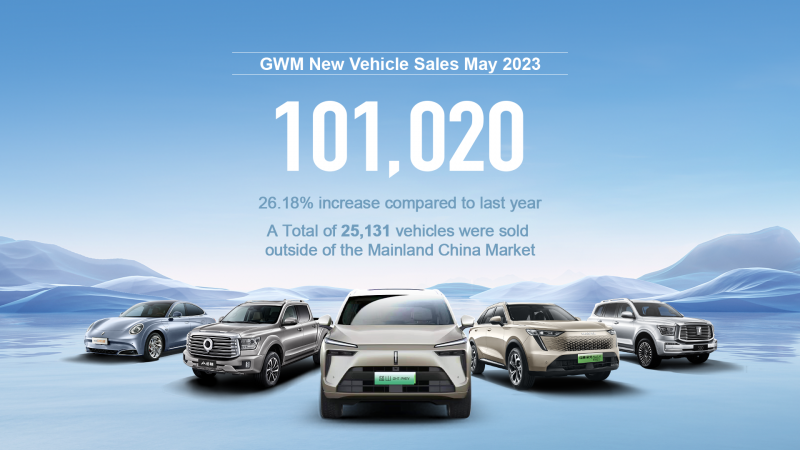 In May, GWM continued to focus on the new energy track, accelerated the renewal of the intelligent and new energy product matrix, steadily promoted the global layout, maintained a sound trend, and continued to advance towards a global intelligent technology company.
Intelligent New Energy Matrix Releasing Potential
Since 2023, the new energy market has become the top priority of GWM' development. Now, with the accelerated renewal of the intelligent new energy matrix, GWM is showing a steady growth trend, and enabling the rising of the enterprise.
The HAVAL brand sold 55600 vehicles in May, a year-on-year increase of 33.18%. The HAVAL Xiaolong MAX and HAVAL Xiaolong were officially launched, with 3088 units sold in May. Among them, the HAVAL Xiaolong MAX debuted the all-new Hi4, ushering in the era of electric 4-WD for all with a "4WD experience and 2WD price". The hot trend has been remaining, and more orders are being delivered one after another. The HAVAL second-generation Dargo PHEV has a monthly sales of 3325 units, and its comfortable and trendy lifestyle has been recognized by many users. The opening of hundreds of HAVAL New Energy dealerships will create a business ecosystem beyond cars with a new model of "service+product", helping HAVAL New Energy usher in a new era.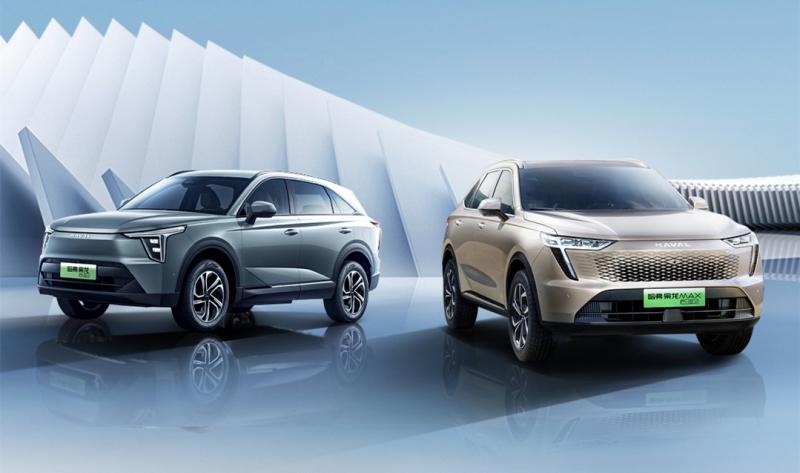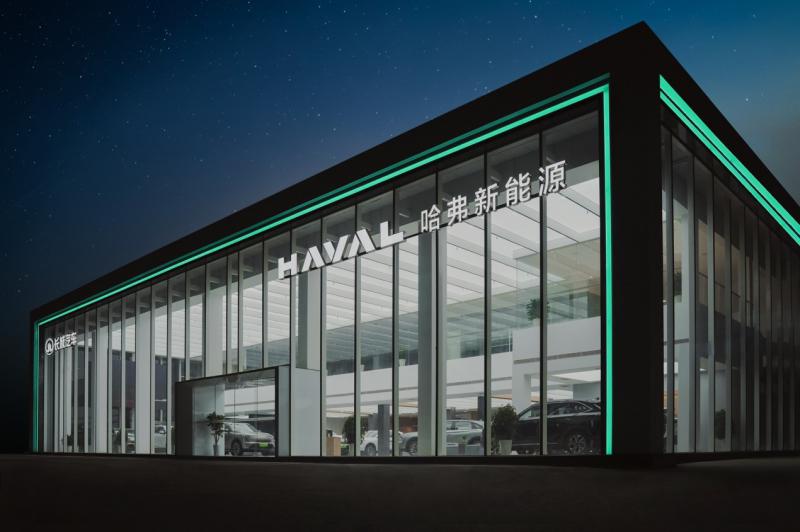 WEY sold 5770 vehicles in May, a year-on-year increase of 128.97%. The WEY Blue Mountain DHT-PHEV continued to be popular, achieving 5316 new car deliveries in its first full sales month. With production capacity is climbing, more orders will be delivered. The WEY New Mocha DHT-PHEV has officially launched, redefining the flagship electric SUV of 5-seats. With more scientific space design, better driving experience, safer travel protection, and more reliable quality assurance, it has gained popularity among users. With the booking was only initiated in 7 days, and the order volume has exceeded 10000 units.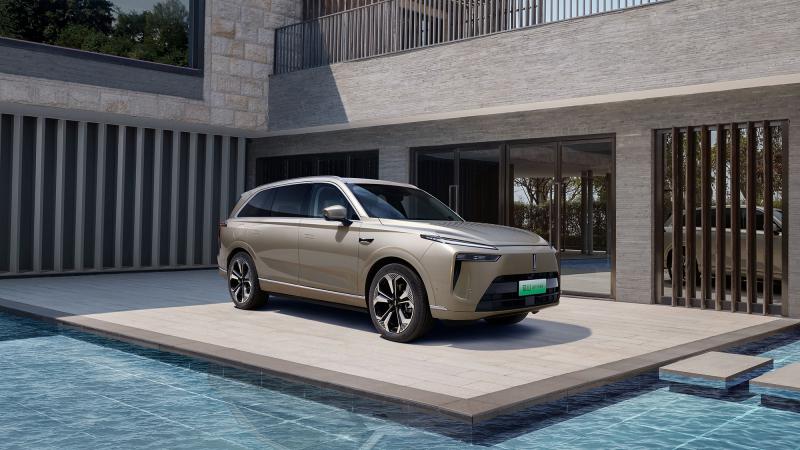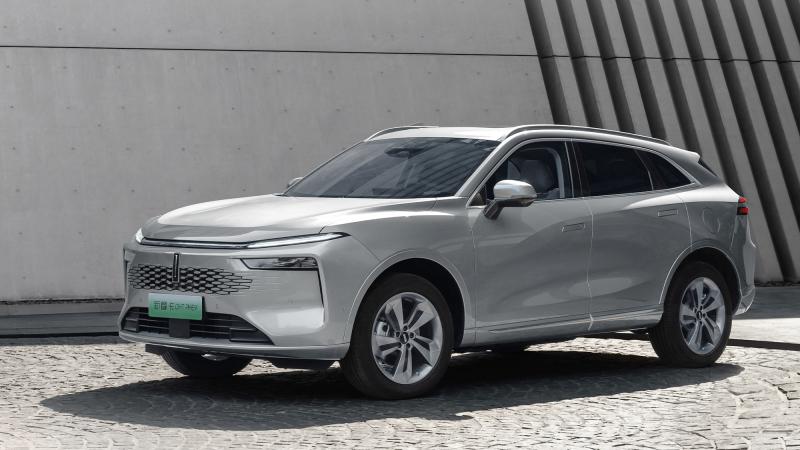 The ORA brand sold 10616 vehicles in May with a month on month increase of 19.27%. The 2023 Hangzhou Women's Half Marathon, supported by the ORA brand has kicked off. The ORA brand showcased two models, the ORA 07 and the 2023 ORA 03 GT Mulan Edition. Just as the slogan "sprint at full power" goes, ORA will interpret the sportsmanship of "Beyond self" and "constantly breaking through", and help the beauty of women bloom freely in the new era.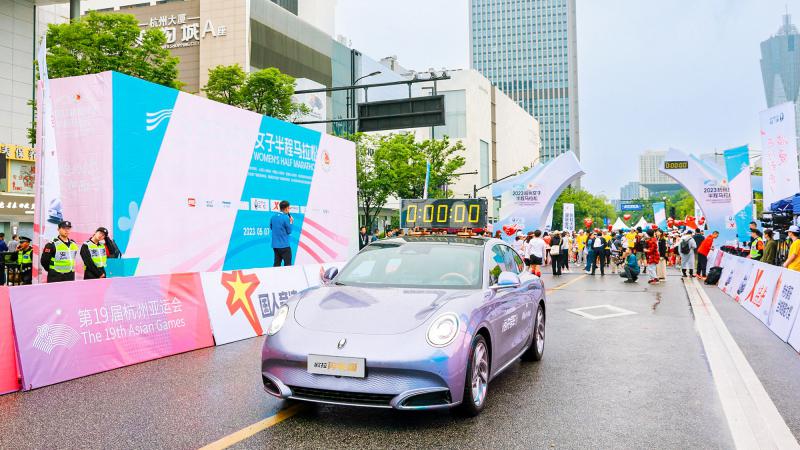 TANK sold 10429 units in May, a year-on-year increase of 30.07%. A journey through Asia, Africa, and Europe, jointly initiated by TANK 500 and "Furious Road" concluded with a perfect ending. TANK500 is accompanied by the famous off-road man, crossing the eastern and western territories, exploring the secret realm of Asia and Europe, and driving with reliable quality of TANK all the way. And next, TANK 500 will continue its exciting journey in Africa. TANK 500 OTA upgrade is pushed across the entire network for more intelligent and convenient optimization, bringing an improvement in multi-dimensional capabilities.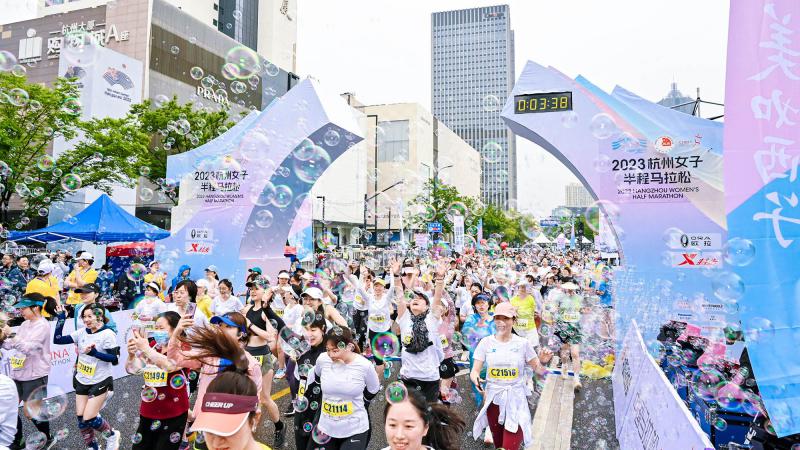 GWM pickup sold 18605 units in May, a year-on-year increase of 9.39%. Among them, the GWM POER sold 14006 units,increased by 6.19%, and registered a cumulative sales volume of over 10000 units in 33 months, ranking first in pickup truck sales. From January to May, the domestic market share of GWM pickup exceeded 50%. "For every two pickups sold in China, one is from GWM. "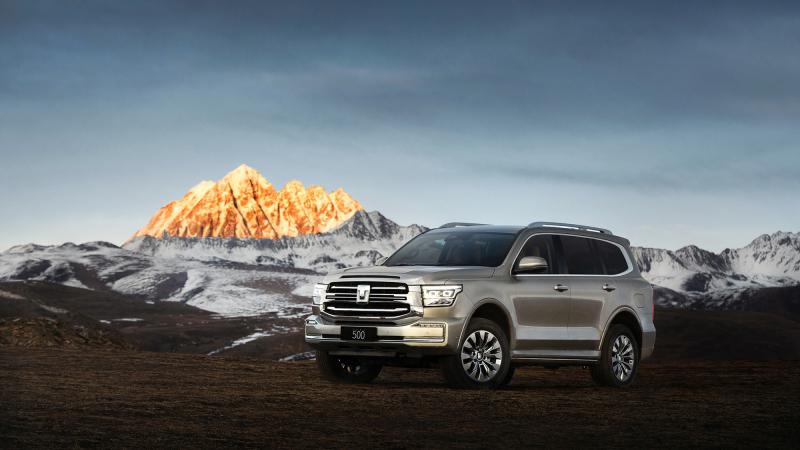 Accelerating the pace of intelligent new energy in overseas market
In May, GWM continued to promote its overseas layout, speeding up the pace of intelligent new energy products in overseas market, so that more global users could feel the new mobility experience brought by the intelligent new energy of GWM.
The Vice President of Brazil visited GWM's Brazilian new energy plant to witness and recognize the new achievements of GWM's intelligent new energy development. In May, Geraldo Alckmin, Vice President of Brazil, and Tarcísio de Freitas, Governor of Sao Paulo, visited GWM's Brazilian factory, and had a deep understanding of GWM's intelligent new energy layout and real strength, including hybrid, pure electricity and hydrogen technology, and witnessed the launch of the first hybrid flexible fuel pickup project in Brazil. During this period, GWM signed a "Memorandum of Understanding on Hydrogen Energy Cooperation and Development" with the state government of Sao Paulo in Brazil to jointly promote the feasibility study of hydrogen powered transportation. As the first new energy plant in Brazil, GWM Brazil Plant is expected to officially start operation on May 1, 2024.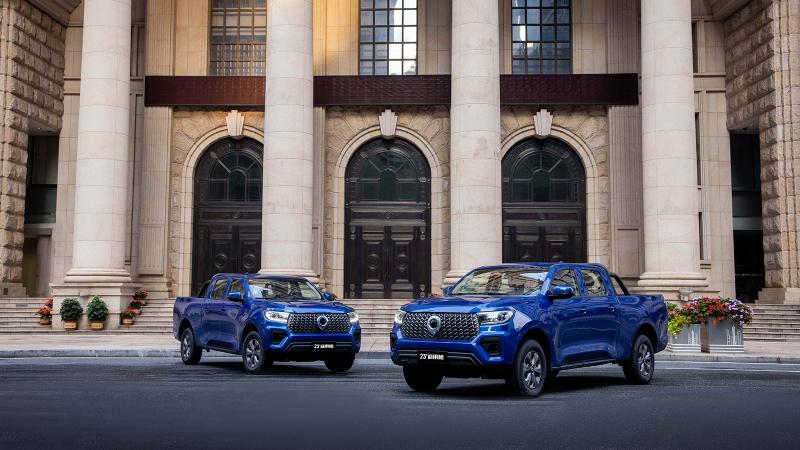 GWM participated the Nampo Harvest Day in South Africa to further break through the marketing circle. The Nampo Harvest Day has become the largest agricultural exhibition in the southern hemisphere and has always been a must-have place for automotive brands. On the stage of the Nampo Harvest Day, GWM off-road POER, new energy TANK 300 and ORA 03 made their debut in South Africa. Exhibitors showed great interest for the models exhibited, and highly praised the products and technologies of GWM.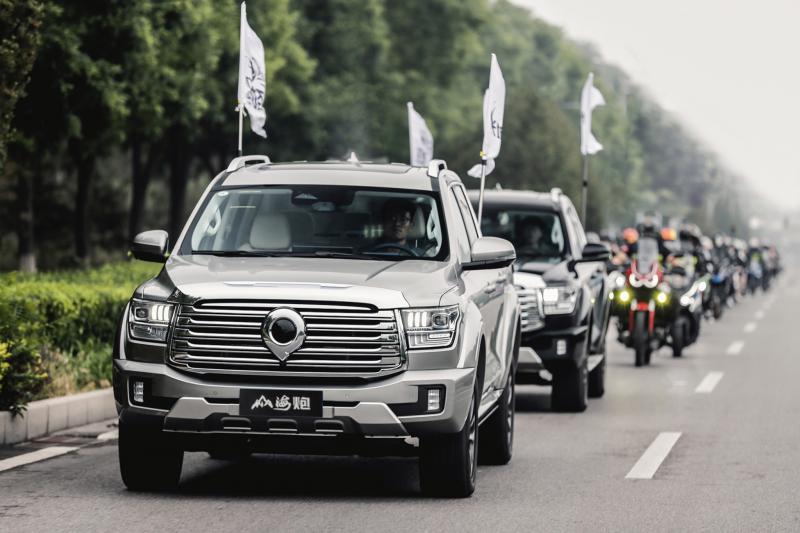 HAVAL H6 HEV and HAVAL JOLION HEV are launched in Chile to promote local new energy transportation. This is the first time that GWM has launched a new energy product portfolio in Chile, and it is also another important step for GWM in overseas market, GWM will gradually promote the strategy of new energy according to market planning and local policies, develop together with the transformation of the Chilean automobile market, and provide users with more choices of intelligent new energy products.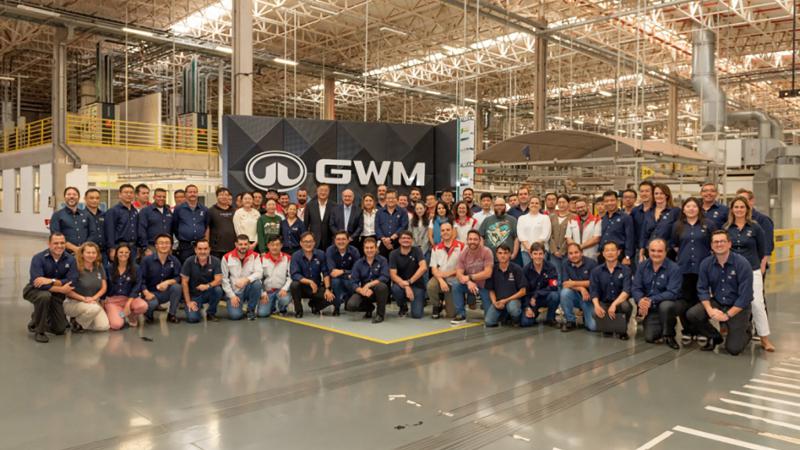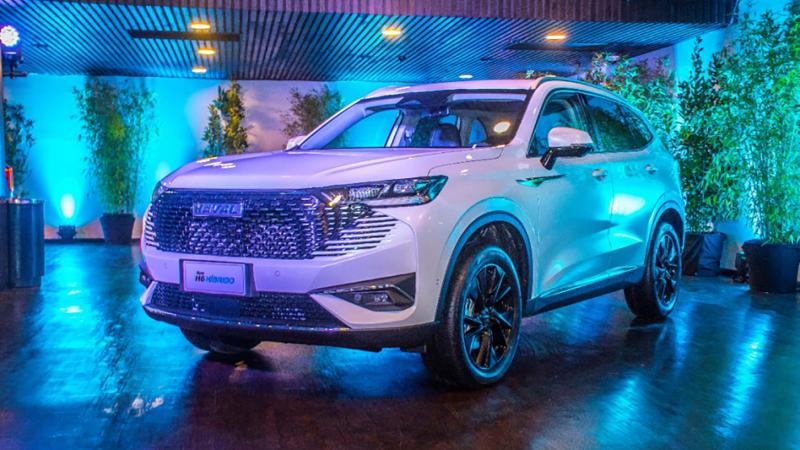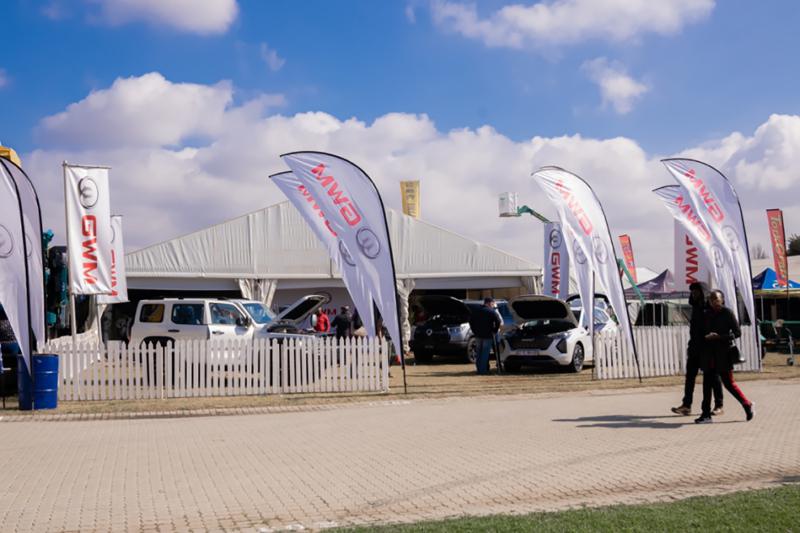 The product lineup is comprehensively updated, gathering new driving forces for development. GWM is facing an upward turning point in the field of new energy. In the future, it will continue to accelerate the promotion of intelligent new energy products, continue to promote the strategic layout of globalization, and open up a new pattern of development with technological innovation and intelligent new energy products of high-quality.