Recently, co-organized by BMBA, CPC Wuhan Municipal Committee and Wuhan Municipal People's Government, the 14th China Brand Festival 2020 has been held in Wuhan, Hubei Province, during which "China Spectrum Award" (top 25 model brands of the year) was announced. As an outstanding Chinese automobile company, GWM won "China Spectrum Award", together with other 24 industry leaders, including Alibaba, Tencent, SINOPEC and iFLY TEK. GWM also won the honorary title of "Outstanding Pioneers with Intensive Cultivation".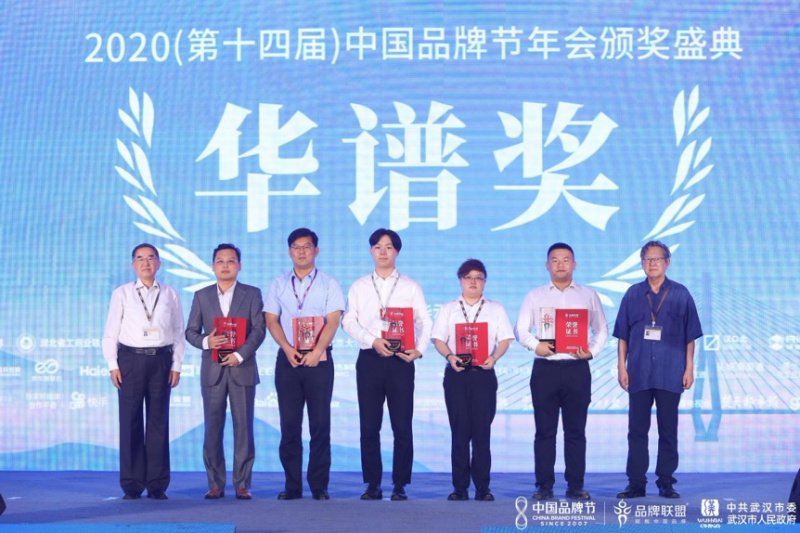 Award-winning Enterprises of "China Spectrum Award" in China Brand Festival 2020
Authoritative Recognition, Invite the World to Witness the Power of Chinese Brands
"China Spectrum Award", which refers to "the faces of China", is a lofty honor for great Chinese brands of the year. It's a glamorous "galaxy of great Chinese brands". This award intends to comprehensively display and vigorously promote the brand image of excellent Chinese enterprises, make Chinese brands go global in a better and faster way and facilitate the world to learn more about China and respect China through learning its brands. The winning award of GWM is not only a reflection of authoritative recognition for its implementation of brand globalization in the previous year, but also a symbol of its role as a key power to present Chinese brands to the world.
"China Spectrum Award 2020" involves 25 model brands most representing national brand image, which are divided into 5 categories, namely, National Business Card Exerting Great International Influence, Mature and Robust Chinese Power, Outstanding Pioneers with Intensive Cultivation and Top Industrial Leaders with Tremendous Strength. The honorary title of "Outstanding Pioneers with Intensive Cultivation" appeared for the first time, which focuses on the ingenuity and innovation shown by Chinese brands on the global stage. GWM is honored to be one of the first enterprises winning this honor.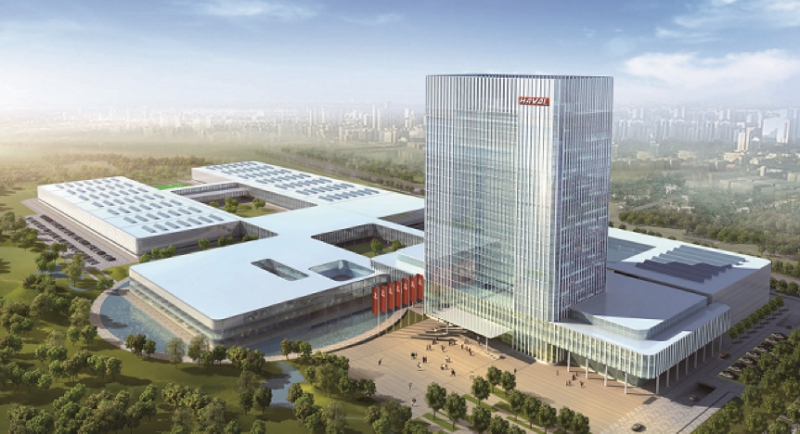 GWM Technical Center
When it comes to the reasons for granting GWM the award, experts from the judging panel said that "GWM is a universally-known manufacturing enterprise offering SUV and Pickup. It has crossed the threshold of selling 100 million vehicles for 4 consecutive years. At present, GWM has established a global system integrating research, manufacturing, supply and marketing. It possess world-class R&D equipment and system as well as advanced comprehensive automobile testing ground, which lay a solid foundation for its continuous independent innovation".
Appropriate to the recognition from China Brand Festival 2020, GWM has now fully started a brand-new expedition of going global and has made worthwhile achievements in global brand construction, which is not only the implementation of "transforming from product output to a whole-system output of brand, technology, management and culture", but also effective practice of the "Brand Going First" strategy put forward by Wei Jianjun, Chairman of Great Wall Motor Company Limited.
Multiple Award-winning Experiences, GWM Keeps Putting on Glamour
2020 sees the 30th anniversary of the founding of GWM. With 30 years' vicissitudes, enterprise development and brand value cultivation in GWM are obvious to people. And now it's playing a role of Chinese automobile leader and showing the world its glamour.
8月5日,由世界品牌实验室(World Brand Lab)主办的第十七届"世界品牌大会"上,2020年《中国500最具价值品牌》分析报告正式发布,长城汽车再次榜上有名,以507.52亿元的品牌价值,位列榜单第128位。
On August 5, on the 17th "World Brand Summit" organized by World Brand Lab, the analysis report of 2020 "China's 500 Most Valuable Brands" was officially released. GWM made its mark again with brand value of 50.752 billion yuan, ranking the 128th.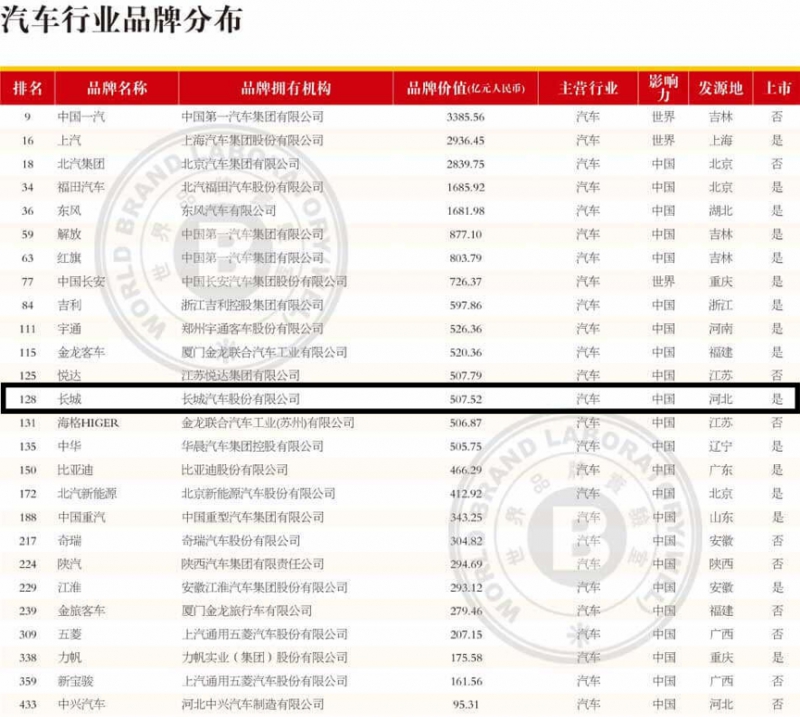 GWM Ranked among 2020 "China's 500 Most Valuable Brands"
As is known, World Brand Lab is a world-leading agency offering independent brand assessment, research and consulting. As one of the three top brand value assessment agencies, it has compiled and published "China's 500 Most Valuable Brands" list for 17 consecutive years. This annual report, which is based on financial data, brand power and consumer behavior analysis, has become a wind direction vane for measuring Chinese brand value.
On July 16, in the list of "BrandZ™ Chinese Global Brand Builders 2020" co-published by Google, WPP and Kantar, the sub-brand Haval subordinate to GWM ranked the 37th, which is 9 places up compared with that in 2019. It shows fastest growth and highest rank among automobile brands in the list, the brand growth rate of which reached 35%.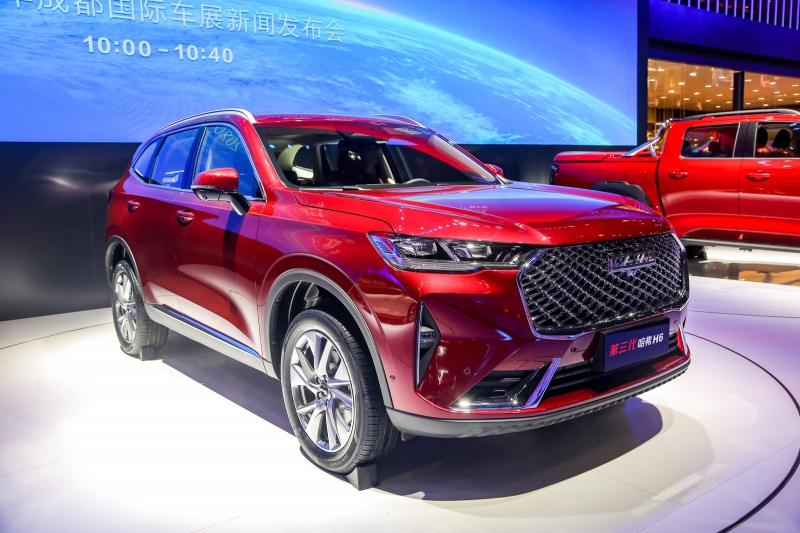 The 3rd Generation Haval H6
The winning of many authoritative awards exactly proves that GWM has been capable of displaying the power of Chinese brand on the global stage. As Chairman Wei Jianjun mentioned on CABF 2020, whose theme was "the winter sprout", GWM will conduct organization optimization and adjustment according to the principles of "two getting through" and "one integration". It will make "structural, mechanism and cultural transformation" and make continuous efforts to promote globalization. Based on the giant market in China, it will realize the objective of dual-cycle globalization development.
Supported by advanced technologies and guided by customers' demand, GWM will continuously deepen self-transformation. In the "new four modernization", GWM grasps the historical opportunity of going global and leads Chinese automobile industry to be heavily involved in global market competition, writing a new chapter of Chinese automobile brand on global market.