As part of its social policy, YESHI GROUP through its subsidiary RIMCO MOTORS has decided to support the DIDIER DROGBA foundation/charity association. In doing so, a Great Wall Wingle 5 pickup vehicle was offered to this foundation. A symbolic gesture to accompany the foundation in its actions. Thus, on May 16, 2019, his first representative Didier Drogba received the keys of the vehicle from Mr. Abdul BEYDOUN, CEO of YESHI GROUP. The ceremony took place in the RIMCO Motors showroom located in Abidjan.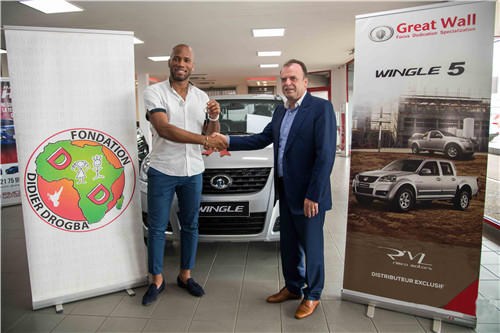 The beginning of a collaboration: "Beyond handing over a car key, this symbolic gesture seals the beginning of a frank collaboration between YESHI GROUP and the Drogba Foundation," said Mr. Beydoun.
"Bring a better quality of life to vulnerable people" : "My thanks go to Yeshi Group for this gesture. This will allow the Drogba Foundation to go to the most remote populations to improve their living conditions. We will be able to bring a better quality of life to the vulnerable and poor people, "Didier Drogba explained.